GUTS

is a creative collective from Madrid. It started as an illustration fanzine in 2013 and soon it became an excuse to develope any kind of artistic work together, such as these ones:
We took part in Solar Punk Festival 18 organized by Ellery studio in Berlin. SPF18 is a two-week intensive get-together of artists, creative workers, energy experts, futurists, academics, and concerned members of the public seeking to enact alternative energy futures.
This first installment of the festival explores how collaborative storytelling and visualization can create compelling eco-positive narratives with contentual depth.
Solarpunk is a movement in speculative fiction, art, fashion and activism, and hopes to bring optimistic stories about the future with the aim of encouraging sustainable progress. This was our Solar Punk Capsule: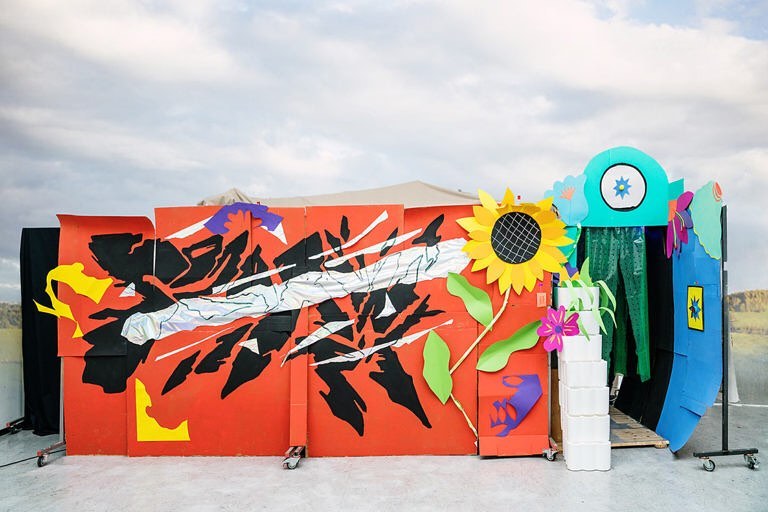 We created an installation made of cardboard in 3 days: a house model from the future. The controls of our nomad modular house inform about the home's energy consumption, room temperatures, security, occupants personal schedules. 3D spiders progress and every other gadget on the house can be viewed here.

We also had an energetic sofa which collects energy from the heat of your body and stocks it at the energy supply of the house. Also, in this future the time is conceived differently because is not measured in a linear way. That explains the weird clock. There were all sorts of interesting gadgets around the Solar Punk experience.
We even dropped and inauguration party to celebrate the opening of the capsule:
This mural was painted during the festival on the side of the Ferropolis museum building, former 30kv station. The high voltage station served the electrical power supply of a whole region.
Another project we took part in:
Guts Collective organised the first cultural week in Moraleja de Cuellar. Seven days full of activities like scarecrow workshop, market, dance class, recycled materials furniture workshop, Dj class for beginners, trash picking contest and more!

At the same time and with the help of the town we rehabilitated the space Las Mimbreras, a part of the village that was abandoned and converted into a playground and meeting point for the people in Moraleja.